Bathroom Remodeling Cost and Customer Guide
$8,000 to $35,000 Average Cost
$4,500 to $7,000 Smaller Bathrooms
$30,000+ Master Bathroom
How much replacing your water heater will cost depends on the type of water heater you plan on getting, the size, the brand and many other factors.
To help you beyond giving the estimates above, we will go into detail about the cost of replacing a water heater according to your preferences as well as your household needs.
You might want to remodel your bathroom because it is decades-old and looks like it is stuck in an episode of the Brady Bunch... Or maybe, you need better functionality and a layout that accommodates your family. Perhaps, you are planning to have your bathroom look like one of those aesthetically-pleasing and Pinterest-worthy ones. Whatever your reason may be, one thing is for sure, this bathroom remodel cost and consumer guide is for you.
On average, homeowners spend $8,000 to $35,000 on their bathroom remodeling project. For essential upgrades or smaller bathrooms, it will be less expensive and cost between $4,500 to $7,000. For complete renovations or master baths, expect to pay in the upper range of the average, around $30,000 or more.
In this guide, we've outlined everything that you need to know before having your bathroom remodeled. We'll give you the breakdown of all the expenses so you can have a good estimate of how much this project will cost you. We've also included some of the most crucial information that you'll need. From the average costs of essential bathroom fixtures to saving tips and many more. We got you covered!
Average Cost of Bathroom Remodel
This range of costs is a pretty good tool to evaluate the probable amount that you need to spend for your bathroom remodel but there is only so much you can know from this. There are a lot of factors that go into a project like this.
For instance, if you prefer high-end hardware and fixtures, expect that your bathroom remodel will cost more than the average, probably twice or thrice more. One of the more obvious factors that affect the cost is the size of the bathroom. So, here's a breakdown of bathroom remodel cost by size.
COST BY SQUARE FOOT
---
The average cost of bathroom remodels is about $120 to $275/ square foot. Moreover, here's a table of the remodeling costs of different bathroom sizes.
COST BY BATHROOM TYPE
---
SMALL BATHROOMS VS MASTER BATHROOM
---
Typically, homeowners tend to spend more on their master bathroom than on the other smaller bathrooms (main or guest bathroom). The cost to remodel a master bathroom can easily average on $32,000- which is approximately twice or thrice of the cost to remodel a main or guest bathroom.
COST BY LEVEL OF REMODEL
---
Another factor that will determine the cost is the level of work that is involved with your bathroom remodel. If you've decided to remodel the surface materials for your bathroom or switch out a few essential features for new ones, you'll probably spend way less than if you decide to gut out and expand your bathroom.
With the level of work decided for your remodel, your expenses for the cost of labor and materials will vary accordingly. And so this will add up to your expenses. So without further adieu, here are the average costs depending on the kind of remodeling to be done:
MINOR REMODEL
---
At this level, the goal of this remodel is to increase the face value of the bathroom. And so more often than not, the only fixtures that they will replace or remodel are the cosmetic surfaces such as replacing the vanity or repainting the walls, and maybe the toilet and sink.
The structural feature such as walls, and utility lines of the bathroom will be left untouched.
Expert tip:
Cabinets can be repainted too creating a while new look, without the cost of replacing cabinets.
COMPLETE REMODEL
---
Remodeling a bathroom completely will be more challenging in terms of the work it requires to be done. At this level, you're looking to change almost all the surfaces and fixtures of your bathroom. Small changes or extensions to plumbing lines may be necessary, but such a project generally doesn't require new circuits or major rerouting of plumbing lines.
Other tasks that you may have to work on at this level includes: replacing vent, floors and other surfaces; replacing old bathtub and shower, replacing ceramic tiles and so on.
BATHROOM ALTERATION & EXPANSION
---
There is a greater deal of labor that goes into a bathroom expansion. The bathroom has to be gutted and rebuilt. Structural members may need to be removed or added.
These processes demand more advanced carpentry, plumbing and electrical skills among others. An expansion would also mean longer hours of work, so you have to factor in a bigger budget for labor cost.
On top of that, this will also mean additional and upgraded fixtures for a bigger bathroom. Which, as you can guess, entails higher expenses for materials and fixtures.
Factors That Drive Cost
Let's dive in for a more in depth breakdown of the costs that you will have to prepare for, for your bathroom remodel. Onto the first one...
LABOR COSTS
---
Labor expenses take up a large percentage of the overall bathroom remodeling cost. Out of the total, labor can account for 20% to 65% of the costs, which is around $1,300 to 4,300.
This will vary depending on the location, where you can expect it to be in the upper range for areas with a higher cost of living. To give you a better estimate, here are the different professionals you may need and how much they cost per hour.
General Contractor
$30 to $85
Interior Designer
$58 to $200
Drywall Installer
$30 to $100
Painting or drywall installation labor costs can also be priced based on square footage. Painters charge $2 to $6 per square foot or $50 to $550 in total while drywall installation can range from $1.50 to $3 per square foot.
FIXTURE COSTS
---
Fixture costs also take up a large percentage of the project's overall cost, usually around 60% or more. On average, expect to spend $2,000 to $9,000. The end cost will largely depend on whether you choose generic and off-the-shelf or customized high-end bathroom fixtures and other materials. Here is the price of the basic bathroom remodel materials:
---
First and foremost, toilets, which arguably, is the most integral fixture that you will have to install in your bathroom. A toilet may seem like a no-brainer but there are actually a number of things that you have to consider before buying one such as the right configuration for your bathroom, the design, and the flushing system.
But to start with choosing your toilet, you can start with the toilet type that will be perfect for your bathroom. There is the two-piece, one-piece, wall-mounted, bidet-toilet combos, smart toilet and more.


Sink
---
Another important fixture that you will need is a sink. There are so many options when it comes to bathroom sinks and the fun is you can choose whatever you want based on your design preference. The first thing you need to do is determine the sink mounting that you want. You can opt for a drop-in or top mount sink, an undermount, an above-counter, a wall-mounted one, or even a pedestal.
After choosing the mount, you can now choose the material that'll match the aesthetic of the rest of the bathroom. Some of the materials you can choose from are: ceramics, porcelain, acrylic, resin and minerals, stainless steel, copper and brass, glass and stone.
If you want to check out option examples, here are 8 different types of bathroom sinks.
Shower and Bathtub
---
Showers and bathtubs come in different shapes and sizes. And what you choose is up to your needs and preferences and those in your household. For instance, if accessibility is an issue, it may be for the best to opt out of bathtubs and instead go for a larger shower with accessibility bars and seating accommodation.
Nonetheless, whatever you end up choosing, here are the basics of what you need to know before installing one or the other.


Showers
There are multiple shower options but two of the most popular ones are enclosed and walk-in showers. Enclosed showers consist of a framed or frameless glass panel which encloses the shower area. This one is the best option for small bathrooms because it prevents water from getting everywhere.
The other option is a walk-in shower. This one has gained popularity because of how efficient the design is. Basically, it has no doors and allows you to just walk-in. This one is ideal for a bathroom that requires accessibility features.
Related: 7 Types of Shower Head for your Home and The Best Smart Shower Head


Bathtubs
There are a number of things to consider when choosing a bathtub such as the style, material and size. For the style,you have so many options in the market. There's the free-standing, oval, angled, claw foot, alcove, corner tub, soaking, undermount, walk-in whirlpool, and air tub.Once you have chosen your bathtub style, you now have to choose the material to use for it. You can go for fiberglass, porcelain, acrylic, stone resin, copper, or marble and so on.
Last but not the least, choosing the size of your bathtub will largely depend on the size of your bathroom. A standard size tub would require a minimum of 5x3 sq ft space in your bathroom.
Tip: According to many bathers, the depth matters more than the size of the tub and a generous slope makes for comfortable reclining. Something you may want to keep in mind.
Vanity
---
It's important to have storage in your bathroom for your essentials. Having so, vanities are the central storage unit in most bathrooms. When shopping for vanities, there are a couple of things to take note of according to your needs and wants: how much storage you need for your bathroom, your sink preferences, your plumbing, cabinet design and so on.
Lighting
---
Since bathrooms are usually located in areas of the home where there is not that much source of natural light, bathroom lighting can be a crucial thing for your remodel. Popular options for bathroom lights are sconces and shower lights.
But, if your bathroom is located somewhere where natural light is an option, consider adding a skylight or sun tunnel. Natural lighting not only illuminates the space but also is great if you want to grow plants in the room.
Moreover, you can also get a bathroom fan with a light, which can be an important feature. The exhaust fan is used to remove excess moisture which can help prevent mildew and mold growth.
---
Now that you've decided on the integral fixtures that you need to install for your bathroom, it's time to take a look at how much they will cost you. It's important to know the prices according to your preferences so I'll discuss the fixture prices, both for the generic options and customized ones. Without further adieu here is a comparison between off-the-shelf (basic) and custom (high-end) fixture costs:
---
It would cost around $400 to $2,500 to gut and demolish a bathroom, largely depending on the size, if the walls are going to be moved or removed, which fixtures that will be removed, and if there is any damage in the inner wall or sub-flooring. Part of this cost is hiring a professional who will need to check the plumbing and wiring.
STRUCTURAL CONSIDERATIONS
---
Depending on the structural changes that need to be done for your remodel, it can cost you an additional $2,500 to $15,000. This can get expensive because you are going to need professional hands to handle these tasks for a successful remodel. Here are the average cost for each services:
| | |
| --- | --- |
| Rerouting Electrical Wiring | |
| | |
| Plumbing Pipe Installation | |
| | |
| | |
| Structural Engineer and Architect | |
---


ACCESSIBILITY FEATURE
---
For people who will need handicapped-accessible bathrooms, it costs around $1,500 to $10,000 for a bathroom disability remodeling project. The price will largely vary since specific upgrades will depend on the circumstances.
This may include additional fixtures and hardware such as railings, grab bars, walk-in bathtub or shower, or handheld showerhead. Some may also need to get the doorways widened or the height of the toilet and sink to be adjusted.
For more information on this, check out this article: Bathroom Remodeling for Seniors and Handicapped Individuals


SPA FEATURES
---
This one may be perceived as luxury additions to your bathroom but many homeowners are adding spa features to make their bathroom a relaxing escape inside their own homes. Some of the spa features that are increasingly gaining popularity are:
Determine Your Goals for Your Remodel
Before actually committing to any plans for your remodel, you need to get a clear understanding of what exactly you want to accomplish. To guide you in this stage of the project, here are some definitive questions you need to ask yourself that will lead you to your bathroom remodel blueprint.


You need to ask who the bathroom is for, or who its primary users will be to accommodate their needs and preferences for your remodel. For instance, if the bathroom is for someone with accessibility needs then this is a game changer for your remodel plan. It's also helpful to ask how many people are going to use the space at once, so then you can plan for a double sink and so on.


What Activities Will Take Place In The Space?
---
Is the bathroom exclusively for bathing, or grooming, dressing, laundry, relaxation? Knowing this will help you decide on additional features that you need to install to your bathroom.


What Type Of Storage Do You Need?
---
Do you need storage just for your bathroom essentials? Or laundry? Or do you plan on having a full-on closet space in your bathroom? If so, you may need more than a simple vanity option.


What Is Your Personal Style?
---
Since you've already decided on the essentials of your remodel, it's now time to decide on the aesthetics of it. This one is totally up to you and/or the other members of your household that will use this space. You can also match the design of this bathroom to the rest of the design of your home, for a more cohesive aesthetic.


This one is a very important one to ask because this may make or break your goals for your bathroom remodel. Make sure that you have the financial appetite for your needs, and moreover, your preferences for your remodel.
Process of Remodeling a Bathroom
Develop Bathroom Remodel Plan
In this stage you also have to think about whether you'll do your bathroom remodeling by yourself or hire a contractor. If the former, you have to research about the process, scope of the project, materials to use and many more. If the latter, you also have to do your research and look for the best contractor in your area so you can get the best deal.
Aside from all that, you will need a concrete plan for your remodeling that includes your budget, floor plans, materials lists and a schedule. If you have all of this established then go on to the next step.
Gut and Demolish Old Bathroom
Before starting this process, you have to make sure that you disconnect the electricity and water supply to the toilet, sink, shower, and bathtub.
Then start off with draining and removing the toilet to avoid any unpleasant spills. Then, remove the main fixtures- toilet, bathtub, sink. Be sure to check for water damage and the growth of molds or mildew underneath. Lastly, remove baseboards, towel racks, lighting fixtures, and all other accessories from the bathroom.
Note: Gutting and demolishing your bathroom can sound exciting, smashing it all down with your sledgehammer and whatnot. But, without proper planning this can be disastrous. You may end up damaging features that don't need to be replaced such as plumbing, which can cost you a huge amount of money further down the road.
Make Plumbing Adjustments
While the wall cavities are open, it's time to install the new pipes and wiring that are necessary to your remodel blueprint. Moving fixtures such as bathtubs or vanities will require major changes to the plumbing. You may have to install a water line extension for your new shower or make plumbing modifications for your re-positioned sink.
Tend to Electrical Work
Now that the walls are down and the plumbing is no longer a problem, you can now work on your electrical wirings. You can update the circuit, install or relocate outlets to make it compatible with the fixtures you're about to install. And you can also relocate light switches.
.
Complete the Walls & Floors
Once the plumbing and electrical work is done, the contractors will start on the wall and floor finishes. For the walls, first they'll be installing the drywall. This process can take up to three days. Then, they'll install the panels and cover up any indentations from the nails and screws used. Then, the walls will be primed and painted.
For the floors, it may need to be repaired or leveled before installing the tiles or whatever choice for bathroom floors. Ceramic tiles are a popular choice for bathroom floors, however some other popular choices are vinyl and wood.
Install Shower, Toilet & Other Fixtures
Now that the foundations of your bathroom are fixed and ready, the next thing to be done is to install the essential fixtures for your bathroom such as your shower, toilet, tub and sink. After these are installed, it is now time to hook up the plumbing to your fixtures.
This is also the time to install other bathroom fixtures such as your light switch plates, mirrors, shelving, vanity and towel bars. With these in place, you can now go ahead and connect your electrical lines to these features.
Finishing Touches
Now that all the essential and permanent fixtures are all in its place, go and make that bathroom your own. Add some decorations and accessories to show your personality...and you are done. You can now enjoy your clean, fresh and brand new bathroom.


Examples of Bathroom Remodeling Projects with Cost
---
before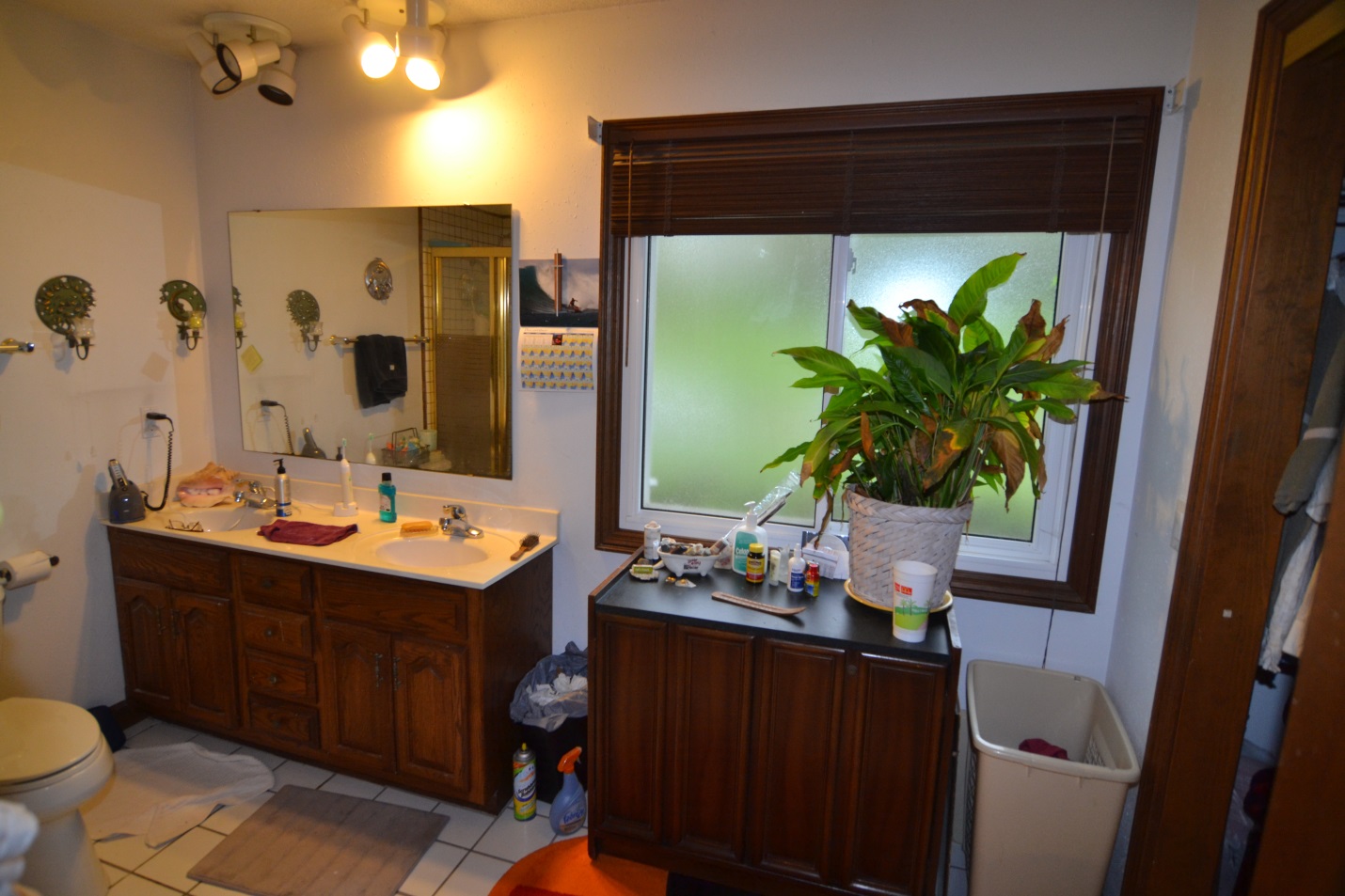 After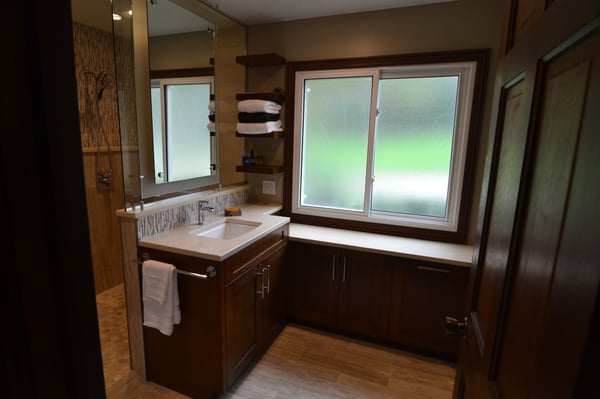 This project from Kaufman Construction Inc., is a remodel of a 75 sq ft full bath. The ultimate goal of the remodel was for the homeowners to utilize the space to its full potential. The problem with their bathroom before the remodel was that it was crammed. For one, because the orientation of the bathroom was a bit unusual for a bathroom space, the room was awkwardly long and narrow. In addition, because of the bathroom orientation, the fixtures weren't properly placed, making a lot of space unusable.
Kaufman Construction's solution for this problem was a wet room concept. A wetroom is basically a totally waterproofed or tanked bathroom with a shower area at the same level as the rest of the floor. The water drains away through a flush drain within the shower area. As seen in the photo, what they did is remodel it in such a way that the shower and the water closet share the same space -which made the space feel much bigger.
Another feature that was helpful in utilizing the nooks and crannies that were once unreachable is the wall-hung toilet, with its tank concealed behind the wall. Moreover, the placement of the vanity is more than a decorative choice as it was also used to hide plumbing. Lastly, Kaufman Construction noted that their choice of opting for the suspended mirror and glass wall separating the shower from the vanity maintains the "airy" feel and contributes to the alluring aesthetic.
Project Cost Breakdown:
It was estimated that a 80 sq ft. bathroom remodel can cost around $8,000 to $22,000. This particular remodel of a 75 sq. ft. full bath, had a lot of changes done to its foundation, main fixtures, as well as its surface features. It's safe to assume that for this project, Kaufman Construction Inc. did a complete bathroom remodel. Such a level of bathroom remodel is estimated to cost around $15,000 to $30,000.
In addition to these general estimations, there are a lot of factors that can drive the costs of a remodel to go up or down such as labor, the fixtures installed, gut & demolition as well as custom features done if any.
If you plan on recreating the same remodel to your own bathroom, expect to spend around:
$22,000+
---
For this particular bathroom remodel by Plan Forward, they tried to make this small full bathroom seem bigger without sacrificing the adjacent room. They added 10 square feet to the current space just to make enough room for two people to enjoy their bathroom. Most of the changes that the builders made were essential to provide extra space for a comfortable bathroom. They added more storage for bathroom essentials as well as closet storage. They also changed the old vanity for a larger one, and upgraded some of the essential bathroom fixtures such as the shower, for a better experience.
Besides actually extending the room and adding more storage and space, one brilliant solution that they did to help make the room bigger was to create a skylight. Skylights are great for enhancing a room aesthetically but more than that, skylights are particularly helpful in making a room seem more spacious because of the natural light that it lets in.
With the changes that they did to the bathroom, a small space is transformed into a highly functional bathroom filled with natural light.
Project Cost Breakdown:
A 35 sq. ft bathroom remodel is estimated to cost around $4,200 to $10,000. For this remodel, they expanded the bathroom and added an additional 10 sq ft to the current bathroom space, which will increase the overall expense. Expanding a bathroom costs around $120 – $275 per square foot. We can assume that the expansion alone costs around $1200 to $2750.
Again, there are a lot of factors that can change the numbers given.
If you plan on recreating the same remodel to your own bathroom, expect to spend around: $6,100 to $ 15,750
---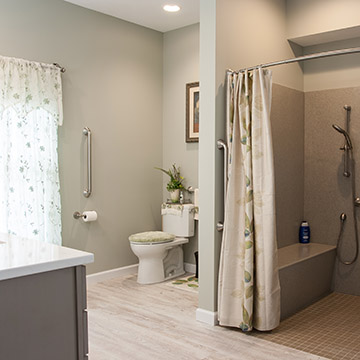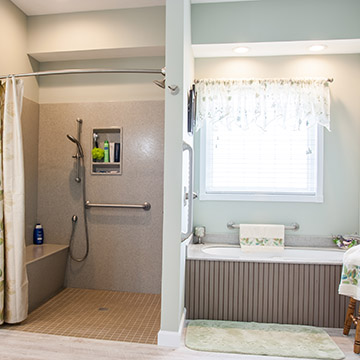 This one is from Dream Maker Bath & Kitchen. They did a master bathroom remodel for a military veteran and his supportive wife. The main objective of the remodel was to meet current limited accessibility needs, as well as very certain long-term accessibility needs of the homeowners. For one, the veteran homeowner has a prosthetic leg and his days vary with the time spent traveling around in his wheelchair or on foot. So, it was very important for this remodel to meet full Veteran's Administration guidelines for wheelchair accessibility.
Another equally important goal for this project was to meet the full aesthetic desires of the supportive wife for the remodel. The clients are a fun and lively couple who very much loved their home. Having so, they still very much longed for it to be presentable for visitors and to be an enjoyable space for both of them.
In the end, this project was successful as it provided both a functional and beautiful transformation for the couple's master bathroom. The project came together wonderfully with great finishes and design that met everyone's desires.
Overall, the builders did a lot of things for this bathroom remodel, from the demolition, the designing, flooring, lighting, installation of essential bathroom fixtures, and painting up to the finishing touches.
Project Cost Breakdown:
According to Dream Maker, the shower space measures at 48" x 48". Looking at the picture of the bathroom we can assume that the whole master bathroom is 5x the size of the shower, measuring at about 80 sq ft. A remodel of a bathroom this size is estimated to cost around $8,000 to $22,000.
In addition, here are the other expenses for the remodel:
If you need to remodel a bathroom for the same size and features, expect to spend around: $11,600 to $22,000
Important Considerations
Choosing A Contractor
---
A professional company you have vetted by checking references and seeing examples of past work brings expertise and the right subcontractors to handle the project. They also know when it is necessary to file for a building permit or permits and how the process works.
Any change to the structure of the room, including plumbing and electrical work, usually requires a permit. The pro will schedule the necessary building inspections that go with the permit.
Saving On Your Remodeling
---


Plan Smart
---
Before starting your bathroom remodel, you have to make sure that you are setting yourself for a successful project. One of the easiest ways to do this is to have a well-thought-out plan.
The first thing you need to do is ask yourself: what is the goal for this remodel? What do you plan to accomplish with this project? By doing so, you are narrowing your project plan down to what is really important for you. Is it to have a huge enough bathroom that will accommodate you and your partner? Is it to freshen up your bathroom for a more serene space? Whatever it is, if you are set with this one, the rest of the planning will follow smoothly.
Note: Even with a pretty solid plan, things can easily go awry. So make sure to anticipate and budget for unforeseen bumps in the road, such as plumbing problems and whatnot.
The next thing to do is to evaluate how much you are willing to spend for the project. If you are unsure of how much this may cost you, stick with this guide and get an estimate. To establish a more comprehensive plan, it is smart to consult with your chosen contractor. Discuss with them your ideas about the layout and design, as well as how much you want to spend for the remodel.
By having a solid plan in hand, you can avoid making last minute decisions- which is one of the biggest reasons that expenses for such projects go beyond the target budget.
Retain Bathroom Footprint
---
The single best way to save money on your remodel is to retain your bathroom footprint-this includes the foundation, the walls, plumbing and electrical wiring.
This one will ultimately depend on your goal for your bathroom remodel. For example, If you plan to upgrade or change the positions of your shower, tub and toilet you will probably have to make changes to your plumbing. But it is worth your money to consider relocating these essential fixtures to a position wherein you won't need to make major changes to your plumbing.
If your goal on the other hand is just to upgrade the look of your bathroom, there are ways to change the appearance of the room without changing its footprint.
Shop Wisely
---
Where and how you shop for your bathroom remodel can save you tons of money. If you are persistent enough, you can find great places to shop your dream fixtures for a discounted price. For one, you can browse the internet for cheaper items but keep in mind to factor the delivery fee when budgeting for your expenses.
You can also check your area for garage sales, flea markets, antique stores, and local shops that may offer just the same quality and design that you are looking for but for a significantly less cost.
One last thing, If you are purchasing multiple items from one place, ask for volume discounts, and find out if the store honors price match guarantees.


5 Costly Mistakes to Avoid
A bathroom remodel can easily go wrong. So it's better to learn from the mistakes that other bathroom remodels had gone through than waste yours with some mistake that could've been easily avoided. These bathroom failures are not only stressful but they're also a huge waste of time and money. So look out for these:
Not Researching Your Contractors
---
Depending on the contractor that you'll choose you can either end up with the bathroom of your dreams or the bathroom from hell. That is why it is very important that before you commit to any contractor for your remodel, make sure that you've researched them and verified their service based on their reviews from previous clients.
You can also conduct an interview to make sure that you and the contractor are on the same page. And before signing any contract, review it thoroughly so everything will go smoothly.
A huge problem with underestimating the costs for your remodel is it can delay the project-and this will in the long run just cost you way more than completing the remodel all at once. Delays in your remodels will cost you extra money because it will take more labor hours and specialty contractors.
Miscalculating Capacities
---
You have to be practical with your goals and plans with your bathroom because you mayend up miscalculating the capacity of your bathroom foundation and space. Changing up plans and fixtures during the remodel will cost you money and may backtrack progress and require you to restart the remodeling process.
In the process of your remodel, you may encounter small things that need repairing but don't necessarily inconvenience you at present, and so you decide to just let it slide. Well, big mistake. For instance, you notice a teeny tiny plumbing concern that may cost you a hundred bucks to repair. In these kinds of instances, you need to take into account the future, because the time and expense of repairing it immediately is minimal compared to the risk you're taking in flooding your new bathroom.
Buying Low Cost Materials and Fixtures
---
Frequently Asked Questions
Heck yes! At resale, an average bathroom remodel recoups about 60% of its costs. An updated bathroom is one of the key features that buyers look for in a home. Plus, a trendy or cool bathroom remodel can certainly be your selling point.
Hiring a contractor probably is the best choice, for the following reasons:
First, you have to consider the scope of the remodeling that you plan to do. Ask yourself if you are willing to put in the time and work for your bathroom remodel plan. And try not to underestimate the project.
Second, be honest with yourself about your skills when it comes to carpentry, plumbing, and electrical work among others.
And lastly, consider your budget. Of course, hiring a contractor will cost more than if you do it yourself. But maybe with research and meticulousness, you can find a contractor that'll provide the best deal for you.
For a complete remodel, it is recommended to have your bathroom remodeled all at once. This way you'll get to save on labor expenses. But it'll ultimately depend on whether you have a limited budget, in which case, doing it in stages is the practical choice.
For a complete bathroom remodel, it typically takes two to four weeks until completion. But partial bathroom remodels can be done in 5 to 14 days and can even go less than that depending on how minor the remodeling is.
You can! If you're only planning to do a partial or surface level remodeling then this is possible.
Moreover, a one-day bathroom remodel typically costs anywhere from $5,000 to $15,000.
The shower is typically the most expensive aspect of remodeling a bathroom, with the costs for a standalone shower remodel ranging $1,100 to $5,500.
But plumbing can sometimes be the most expensive part of remodeling, especially with unexpected fixes that need to be done.
One of the most important steps is to get informed. It's a good place to start. Research on your bathroom remodel plan, get informed on the process, estimate your expenses, and look for the best contractor for your project. Once you've done your research, you'll be at ease when handling your bathroom remodel.